Professional workshop for outpatient ophthalmologists

18.11.2013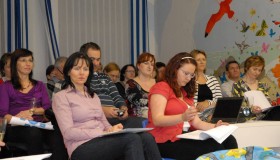 On 6th November we welcomed outpatient ophthalmologists who attended the professional workshop in our premises of Kukátko. The theme of workshop was:
"Children's eye centre Kukátko and OCT in daily practice of outpatient ophthalmologists"
The workshop was organized by Duovize Eye clinic and Children's eye centre Kukátko. The guarantor of workshop was MUDr. Naďa Jirásková, CSc. from Faculty hospital Hradec Králové.
In the workshop was introduced Children's eye centre Kukátko – its mission, team, spectrum of care and indication of pleoptic and orthoptic treatment. Then was introduced interpretation of the results of OCT in practice and the use of Avastin treatment. At the end we were all pleased by warm and  lively discussion of all participants.
We look forward to next reunion!