Bc. MARÍNA CAISTOR

Optometrist and Optician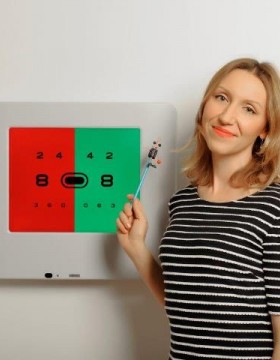 What I like about my work
Professionalism, responsibility and human approach in connection with professional care and treatment of visual defects in children are in the first place. There is nothing more joyous than to follow achievements in a paediatric patient who step by step achieves positive results. Even small advances in the treatment of visual defects can help a child to gain motivation and joy of new activities that were impossible for him or her because of an undetected eye defect. We help a child to gain more confidence and better interaction in a group of children, and particularly to develop naturally by proper treatment minimizing his or her eye defect.
To see a child who slowly develops and opens up after the treatment is for me the maximum reward for the effort of not only our professional team, but also the parents and the child itself.
Experiences
She has worked in ophthalmology and optics more than fifteen years.
Children's Eye Centre KUKÁTKO
Orthoptics Dr. Očka - Mgr. Hamplová
Fotex Česká republika s.r.o.
GrandOptical s.r.o.
Vision Express Czech Republic s.r.o
She is the member of the Association of Czech Opticians and Optometrists and member of the Association of Czech Orthoptists.
Education
Optometry and Ophthalmic Optics, Second Medical School, Charles University in Prague
Professional Diploma in Management, Open University