MUDr. EVA JERHOTOVÁ, Ph.D.

Paediatric ophthalmologist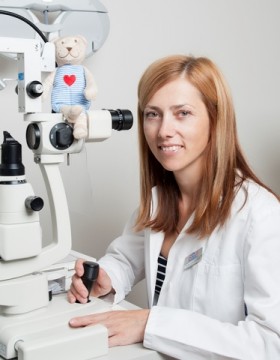 What I like about my work
Being mother of two children I like seeking the way to paediatric patients. Children do not always cooperate during the first session but I know that thanks to the sensitive approach children soon get used to the new environment and they look forward another check-up. A great reward for my work is to see good results and improvements in children. If an eye disorder is detected early we can achieve great progress and vision of children may improve already in a few weeks. Often seemingly "clumsy" or "awkward" kids after improvement of vision and using eye glasses become completely different personalities.
Experiences
She specializes in the treatment of diseases of retina and glaucoma, OCT testing, treatment of refractive disorders, paediatric ophthalmology, treatment of strabismus and general ophthalmology issues.
Children's Eye Centre Kukátko
Eye Clinic Duovize
Private Eye Clinic in Prague
Private Eye Clinic JL in Nové Butovice
First Ophthalmology Department of General Teaching Hospital in Prague
Study experience in the Ophthalmology Department  of Basset Healthcare Hospital in the USA
She is the co-author of several articles and lectures related to ophthalmology.
Education
Medical dissertation, academic title Ph.D
Medical postgraduate certification of first degree from ophthalmology
Postgraduate studies in Biomedicine at Faculty of Medicine and Sciences of Charles University
First Faculty of Medicine of Charles University in Prague - general medicine