MUDr. MARTA KORBASOVÁ

Paediatric ophthalmologist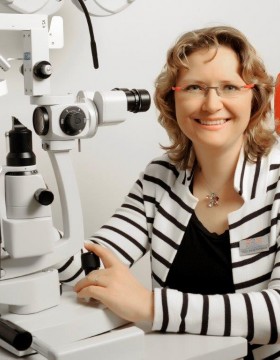 What I like about my work
Children are the most precious thing we have and whether they have good vision in adulthood is mainly our responsibility, responsibility of their parents. I can often hear to say "but my child can see even a small plane". Yes, but it is possible that the child uses only one eye without knowing it. If it is revealed and solved in time, there is a big chance to restore the vision. And it is our greatest reward. Do not deprive them of the chance to become a pilot, an architect, or for example a crane operator.
Experiences
She specializes in outpatient paediatric ophthalmology, and clinical diseases of the cornea and conjunctiva, diseases of the retina and patients with diabetic retinopathy and laser treatment of retinal diseases.
Children's Eye Centre Kukátko 
Private Eye Outpatient's Prague 
Lecturer of the First Faculty of Medicine of Charles University in Prague – teaching of students, practical exams
Department of Ophthalmology of the General Teaching Hospital and First Faculty of Medicine of Charles University in Prague 
She is the author of a scientific article in the journal Czech and Slovak Ophthalmology and Practitioner, co-author of the book Case Reports in Ophthalmology, author and co-author of many lectures and professional reports.
Education
Licence of the Czech Medical Chamber for exercise of independent practice in ophthalmology
Medical postgraduate certification of second degree from ophthalmology
Medical postgraduate certification of first degree from ophthalmology
First Faculty of Medicine of Charles University in Prague - general medicine